Natalie Imbruglia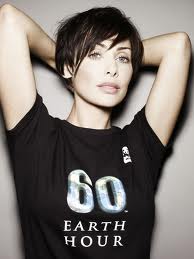 Натали? Имбру?лья
(англ. Natalie Jane Imbruglia) — австралийская певица и актриса.
Биография
Родилась 4 февраля 1975 года в небольшом австралийском городке Бирклеуэил неподалёку от Сиднея в семье итальянского иммигранта и австралийской аборигенки. С детства начала заниматься балетом. Профессионально занимается пением с 13 лет, сначала снималась в телевизионной рекламе, затем в популярном сериале «Соседи», в котором начинала карьеру Кайли Миноуг.
В 1994 году Имбрулья уезжает в Лондон, где знакомится с Филом Торнелли из группы Cure и функционером BMG Марком Фоксом. В Лондоне она записывает демоверсию песни Torn и подписывает контракт с лейблом RCA Records. Сингл выходит в 1997 году и становится международным хитом, достигнув в официальном британском чарте продаж второй позиции. Песня была названа британской газетой Daily Mirror синглом года, а сама Натали заняла второе место в номинации «лучший женский вокал года». В 1998 году получила премию MTV Video Music Awards в номинации «лучший новый исполнитель» и номинации на премию «Грэмми» в 1999 году. Вслед за синглом выходит дебютный альбом Left Of The Middle.
В 2002 году снялась в комедийном фильме режиссёра Питера Хауитта «Агент Джонни Инглиш». В 2003 году вышла замуж за музыканта группы Silverchair Дэниела Джонса. В 2008 году пара объявила о разводе. В сентябре 2009 года певица объявила о выходе нового альбома "Come to Life" 2 октября 2009 года
статья взята с wikipedia.org