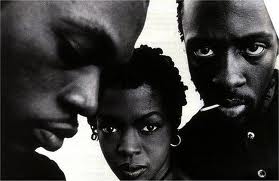 The Fugees — авторитетная американская хип-хоп-группа, которая в середине 1990-х способствовала более тесной интеграции хип-хопа с другими музыкальными направлениями. Их музыка представляла собой уникальное сочетание хип-хопа с элементами джаза, ритм-энд-блюза и регги.
Сложилась в Нью-Джерси в конце 1980-х в составе солистки Лорин Хилл и рэперов Праса и Вайклефа Джина. Последние двое были двоюродными братьями и выходцами с Гаити. Название команды образовано от насмешливого обозначения переселенцев из Гаити. Поначалу экстравагантное трио было известно своими концертными выступлениями; первый студийный альбом («Blunted on Reality», 1994) прошел практически незамеченным.
Звездный час пробил с выходом второго альбома The Score в 1996 г. Он был распродан многомиллионным тиражом, выиграл несколько премий «Грэмми» и стал одной из важных вех в истории хип-хопа. Первый сингл с альбома — кавер-версия «Killing Me Softly» Роберты Флэк — на протяжении семи недель удерживал первое место в Великобритании. За ним последовал другой бестселлер — «Ready or Not», построенный на сэмплировании хита Энии «Boadicea» (за что певица подала на рэперов в суд). Третий сингл — «No Woman No Cry» — впитал в себя элементы регги, будучи перепевкой знаменитой песни Боба Марли.
После оглушительного успеха второго альбома все трое участников группы занялись сольными проектами. В 2004 г. воссоединились для тура по Европе и записи третьего альбома.
статья взята с wikipedia.org